Current Status
2020-2021 was a very slow year for The Shoppes at Lafayette.  The onslaught of big box internet ordering/shipping started to have a major effect on the small businesses in the Village.  When COVID hit, the onslaught accelerated.  The major brick & mortar stores in the Village could not compete and closed their doors to move their sales online nationwide.  A few of the small businesses also closed its doors.
2022 saw a period of the start of a comeback for The Shoppes at Lafayette.  However the Village began to look a little different
NJ Herald's Lori Comstock released an article September 13, 2022.  Lori pointed out a national movement of sorts where retail malls, strip-malls and retail stores are changing with a major swing in developments to multi-use developments.  Retail is becoming an add-on project to major business developments. The plan at the Shoppes at Lafayette is to offer a village-style mix of retail, restaurants, professional services and housing to rejuvenate the site.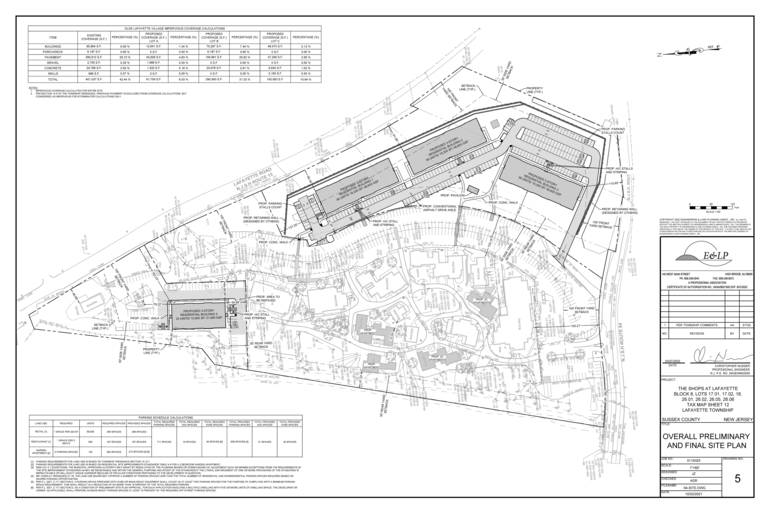 In late June, 2022, the Lafayette Land-use Board approved a project to construct four, three story apartment complexes.  Three of the buildings will consist of 36 units and the fourth will have 24 units.  The plans call for offering either one- or two-bedroom units.  The hope is that the mixed-use concept of commercial, professional, and residential units will draw more traffic to the site and to the township of Lafayette and offer to residents and visitors alike a balanced north country living experience.  The concept will afford residents a new form of convenience.  This approval will allow residents of the Lafayette community to see their doctor, grab dinner and go shopping without traveling very far.  This also gives rise to Maisonette apartments or mixed-use buildings.  This is where there is a store on the ground floor and apartment on the second floor.  The Shoppes at Lafayette have a few buildings that could be converted into one of these Maisonette apartments.
There are currently no plans for new restaurants although a bagel shop could be seen by mid-summer of 2023.  The new ecological systems being planned for the apartments will also allow for The Shoppes at Lafayette to modify current buildings for multiple restaurants.  The property owners are now accepting business plans to do just that.  The development of new restaurants and other commercial/professional businesses would coincide nicely with the completion of the apartments.  The Village has seen an increase in commercial/professional businesses such as: Acupuncture, hair salon, nail salon, karate school, & DIY candle making.  New businesses coming soon are a gym/ninja warrior facility, Eyebrow beauty bar and wooden flower shop.
---
Events currently planned at The Shoppes at Lafayette in 2023
Farmers market with craft vendors every Sunday starting Memorial Day Weekend
Fall Festival on the Green: 

September 16

Garlic Festival: 

October 14

 & 15
Small Business Saturday: 

November 25

Potentially a Christmas Indoor Shopping Village: December 9/10 and December 16/17.
---
Gary Van Schaick
Manager
Office Hours: Tuesday – Friday: 10:00a-1:00p
Office Phone: 973-255-9044
The Shoppes At Lafayette